Olympics or not, the natural beauty of Rio De Janiero is hard to describe. Massive, strangely shaped mountains lay on one side, and beautiful bodies of water – the Iconic bay(Guaranaba) and the Atlantic Ocean on the other.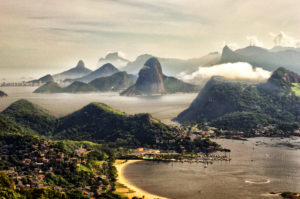 I wake up, and take the bus from Niteroi into Rio De Janeiro. It is important to note that "Rio De Janeiro" means "River of January," which is a misnomer. The first Portuguese explorers to arrive mistook the mouth of the Guanabara Bay as a river. In modern times, the Guanabara Bay is quite polluted; so much so that many residents will not go into the water.
However, the beaches on the adjacent side – Copacabana, Ipanema, and Leblon – are absolutely stunning, and that is the first place I decide to go. There is a saying in Rio De Janeiro, that "the beach is everyone's living room." It's where most Carioca's(people from Rio De Janeiro) meet during the day, and the place to be while the sun is out.

It's hot, but not too hot. Beach vendors pass by, selling everything from beer to freshly caught shrimp. More than anything else, the intense Brazilian heat is best counteracted with chilled young coconuts. Brazilians sell them whole, using large machetes to hack the top away. The chilled, potassium rich coconut water is extremely refreshing.
While sitting on the beach, I look up and notice both of Brazil's world famous landmarks. The first is "Christo Redentor," or "Christ the Redeemer," which is the massive statue of Jesus Christ, arms outstretched. It sits perched on the very top of a mountain. It is absolutely huge, making it visible from very far away. It is lit up at night, making it visible from nearly every part of the city, at nearly every time of the day and night.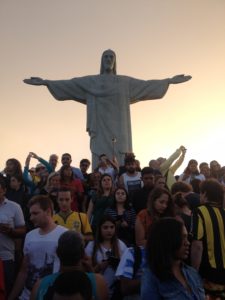 The other is "Pao de azucar," which translates to "Sugarloaf Mountain." These are two massive mountains that are connected by cable-car, giving perhaps the best view of Rio De Janeiro. The scenery in Rio is intrinsically wild – the raw and natural beauty is simply not available in a place like Los Angeles.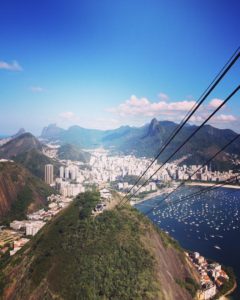 Like the background, Rio De Janeiro's inhabitants are also extremely beautiful. Brazil is a place where many cultures have historically come together: Portuguese, African, and Indigenous Brazilians. The result is a mosaic of features that delight the senses.
While both Rio De Janeiro and the people who live there have immense physical beauty, perhaps the best part about Rio De Janeiro is the pervasive "Carioca" attitude. Once again, a "Carioca" is someone who is from Rio De Janeiro. At the end of my 21 days, I feel comfortable saying that most "Carioca's" enjoy having a good time. That means dancing, drinking, and being exceptionally friendly to a foreigner like myself, who speaks limited Portuguese.
This attitude is very much Latin American – and a reason that I loved my time in both Bogota and Rio. People seem to be more laid back. They take their time, and they don't seem to take themselves or their lives too seriously. Constant laughter is a way of life.
I cannot emphasize enough the importance of learning the local language when traveling. My experience would have been a fraction of what it was had I not been able to communicate with the people who actually live here.
The beautiful thing about immersion is that this is always the case. More than where you go, it is the people that you meet that shape your experience – and it is much more easy to meet people when you can speak their language. People are generally amused and appreciative.
On top of beautiful and nice people, Brazil also offers some very delicious food. The fruits are insane – larger and sweeter than the United States. Things like guava, acai, and coconuts are available at all times. Fruit juice is a staple of the Brazilian diet – as is a toasted flower mixture known as "farofa," which is sprinkled on nearly everything.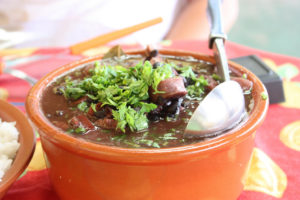 Brazil is also known for its savory stews and delicious meats – both dried and grilled. The famous Brazilian "Churrasco" is no joke, but the most famous Brazilian meal is "feijoada," which is a stew of black beans with beef and pork. The meal is extremely heavy, but fantastically satisfying and is only served during the day.
However, when the sun goes down, the city becomes even more alive. There is a vibrant night life in Brazil – one that is only heightened by the Olympic experience. The caipirinha – the most famous Brazilian drink – is a mixture of "Cachaza"(a pungent alcohol distilled from sugar cane), lime, and sugar. Although they go a little overboard with the sugar for my taste, the end product is refreshing and delicious.
Sounds of samba fill the streets. This is especially true in neighborhoods like Lapa – where it turns into a full-blown street party on the weekends. Vendors and party goers pack the road to the point where it is nearly impossible for busses and cars to get through. Guitar, drum, and wind instruments work together in unison to create a rythym that is infectious.
All of the sounds, smells, and sights are only amplified by the festive nature of the Olympic games, which turned out to be a massive success.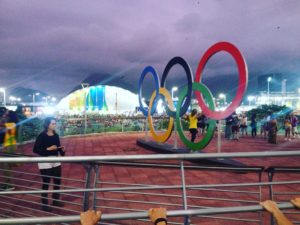 I speak to many locals about the Olympics and the controversy that has surrounded it – topics ranging from the Zika virus, National Security, the suffering economy and the Olympic implications, as well as the tumultuous political situation that Brazil finds itself in. But by the end of my stay, it is obvious that the positives of this experience have outweighed the negatives. Although Brazil has a lot of work to do, there have been improvements in poorer areas. An entire downtown area was built for the Olympics that Brazilians are utilizing. And last, but certainly not least, the overwhelming national pride that Brazil has for its country, it's inhabitants, it's culture, and it's athletes, is overwhelmingly infectious.
Personally, I can't wait to go back! And I cannot emphasize enough how helpful learning Spanish by immersion has been in my journey!
So what are you waiting for? Sign up for Kallpachay and Play Your Way to Spanish!
-DJL